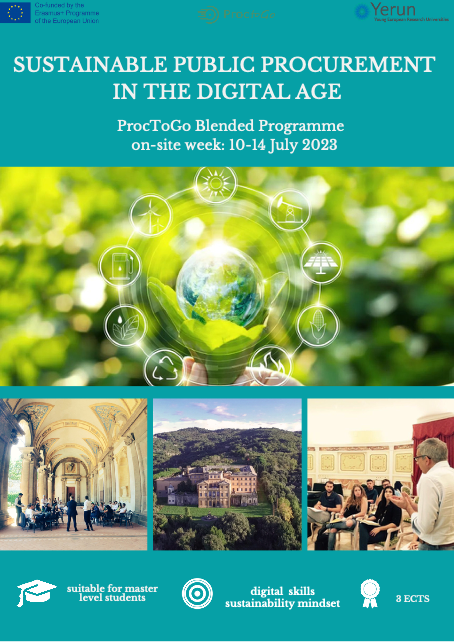 Sustainable Public Procurement in the Digital Age

We are ready to launch the first blended summer programme involving students from the five partner universities.

Are you curious to discover how public procurement can support digital and green transformation?
Sustainable Public Procurement in the Digital Age is a blended programme aiming to provide participants with hints and direct engagement on how public procurement can be redesigned through digital tools to achieve sustainability goals.
The programme has a blended format including:
- self-paced training on the fundamentals in the areas of digital transformation, sustainability, procurement and supply chain management (accessible on Open edX, starting from 15 May 2023);
- In-person practice-based lectures on how public tenders can be designed and managed to promote sustainability (from 10 to 14 July 2023);
- hybrid group work on a public tender simulation started in presence together with the lectures and presented remotely to Public Procurement Authorities during the last week of July.
Successful completion of the programme, including an individual assignment on the key learning of the programme, grants 3 ECTS (subject to recognition from home university).
Target participants: mainly master-level students with a background in Management, Economics, Data Science or Law. Students with different backgrounds will also be considered as long as they have a specific interest in the programme topics.
Fees and expenses: thanks to EU funding, the programme is free of charge for all participants (free programme participation includes coffee break and lunch during the classes).
Students from partner universities of the ProcToGo project (University of Antwerp, University of Bremen, Universidad Carlos III de Madrid and Universidade Nova de Lisboa) are eligible for a travel/accommodation reimbursement.
Selection process: candidates will be selected based on their academic background, performance and motivation.
Applications must be sent to info@proctogo.uniroma2.it and must include:
Academic transcript
CV
Motivation letter
Copy of your ID document
Application deadline: 28 April 2023
Further information about the programme is available in the attached flyer and at the following link: https://proctogo.it/sustainable-public-procurement-in-the-digital-age
Should you have further queries, please do not hesitate to contact us at info@proctogo.uniroma2.it